Hard Drive Recovery Associates has more than a decade of experience recovering data from a wide range of devices, including RAID, hard disk drives, flash drives, and other storage media.
Our highly trained engineers have witnessed every form of device failure and have a 97% success rate.
We have invested a significant amount of money in research and development to develop new data recovery methods for both old and new media.
Because of our drive to staying ahead of the curve in a competitive market, as well as our various certifications, we are the most dependable data recovery service in the industry.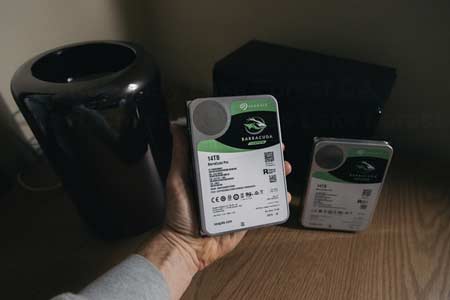 We offer a variety of recovery options to fit your data loss scenario, including:
Recovering Data from a Hard Drive
Hard Drive Recovery Associates works with desktop or laptop hard drives and external drives in all failure scenarios, from hard drive clicking to device not starting up.
Recovery for Mac OS X
Our specialist engineers are Mac OS professionals who can work on iMacs, MacBooks, and iPhones without voiding the manufacturer's warranty.
On a laptop, data recovery is possible.
Whether it's a Dell, Lenovo, Asus, HP, or another laptop brand, our experts can recover data from a crashed hard disk, unintentional data overwriting, and more.
On a desktop, data recovery is possible.
We provide a broad variety of media repair and recovery services for desktop computers.
Every operating system, including Windows, Mac, Linux, Unix, and others, can be used to recover files.
RAID data recovery is almost always possible.
Our secure imaging process for failing RAIDs protects your original hardware from further damage.
Our engineers employ exclusive solutions to restore data from any RAID type.
RAID Restoration
Our engineers repair damaged RAIDs in a Class 10 ISO 4 approved Cleanroom.
We will give a detailed disaster recovery plan to avoid downtime following a RAID failure, and we can also expedite the process to get your data returned within 24 hours!
Data Recovery from a Storage Area Network (SAN)
All storage area network (SAN) vendors, including HP, NetApp, EMC, Dell, and others, have certified us to work with them.
Files can be recovered from SAN storage that has been physically or logically destroyed by Hard Drive Recovery Associates.
Data Recovery from a Network Attached Storage (NAS)
For NAS systems, professional recovery services are essential to return your files to you as quickly as feasible.
Hard Drive Recovery Associates boasts the quickest turnaround times in the United States for NAS systems.
Quality Server Recovery
Servers are massive storage systems that require a lot of maintenance.
To minimize any downtime caused by data loss, our experts will repair your server and restore your data as promptly as possible.
Recovering Data from Backup Tapes
Because digital data tapes provide stable backup for decades, businesses can save money by employing them.
If physical damage to DLTs, LTOs, and other data tape models occurs, Hard Drive Recovery Associates engineers will treat them.
Recovering Data from a Database
Our experts have experience with a wide range of databases, including Oracle, SQL, Access, and others.
Database data recovery has a 96 percent success rate, and we adhere to the strongest security protocols during the procedure.
Encryption-based recovery
Other data recovery companies may struggle with encrypted data recovery, but we have in-depth knowledge of EFS and all other encryption technologies.
Your files will be returned to you encrypted on a secure transfer medium.
Data Recovery On Your Premises
We provide on-site professional data recovery services for the most difficult and sensitive data loss circumstances.
Our data recovery experts can recover data from any device in your corporate environment.
Recovery of Data from a Solid State Drive
Solid-state drives (SSDs) are a popular type of flash memory for storing important data in both personal and business settings.
We can repair and recover SSD and SSD-HDD hybrids without risking media damage.
Our professionals give the same level of service for each email file recovery, whether it's a single email or an entire archived email chain.
Mobile Device Recoveries
We use qualified mobile phone recovery experts that are capable of working with both Android and Apple devices.
Hard Drive Recovery Associates can safely access lost communications and application data without voiding warranties.
Our Other Data Services
We provide a variety of services, including database conversion, secure media disposal, and media conversion.
Our workplaces are set up to manage processes on a variety of digital devices.
Emergency Data Recovery
Hard Drive Recovery Associates offers emergency services with a 48-hour turnaround time when you require urgent access to your critical data.
We offer the most extensive data recovery and media repair services available, and we'll give you outstanding service while minimizing your downtime.
Our Methodology Is Safe
When you choose one of our data recovery services, the procedure begins when you ship or drop off your media at one of our more than 250 locations nationwide.
After running tests on your device, our engineers will determine the pricing point and expected turnaround time for its recovery.
If the client authorizes, our engineers will do the recovery and will not charge more than the agreed-upon price, even if the recovery takes longer than intended.
Once the recovery is complete, our engineers will send you your recovered files via a FIPS 140-2 Level 3 Certified transfer media, assuring the highest level of security for your assets while in transit.
What Are the Advantages of Our Data Recovery Services?
Hard Drive Recovery Associates' engineers have successfully retrieved data from media that had previously been judged unrecoverable by other companies.
We've successfully recovered data from fire and water-damaged cases, encrypted devices, and logically corrupted media.
We cherish our clients' privacy, as evidenced by our SSAE 18 Type II Certification.
We do all of our work in-house and don't hire anyone else.
We use Class 10 ISO 4 Cleanrooms in our secure environment for data recovery, giving you the best chance of getting your data back.
Using patented technologies, we have completed data recovery services on every type of device on the market.
We will uphold our "no data, no recovery cost" promise if we are unable to recover your files for whatever reason.