Hard Drive Recovery Associates has well over 20 years of experience recovering data from virtually every kind of data device available, including RAID servers, hard disk drives, SSD drives, external hard drives and many more. Over the years our data recovery engineers have seen it all when it comes to hard drive failure, and as a result we use our experience to recover 98% of devices we are sent.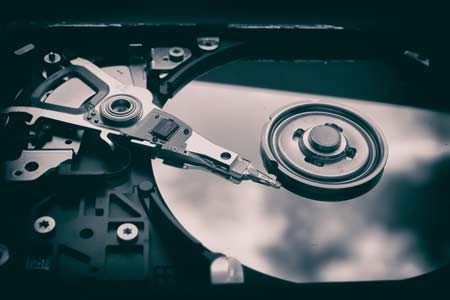 Our proprietary data recovery techniques come from not only years of experience, but also our commitment to research and development as well as constant training from major manufacturers. Staying ahead of the curve has made us a leader in the data recovery industry, and one of the largest hard drive recovery service providers in Southern California.
No matter your data loss situation, we can help, as we offer a variety of data recovery services:
Hard Drive Recovery
Hard Drive Recovery Associates has worked with almost every type of desktop, laptop and external hard drive in existence, and we have seen every kind of hard drive failure. Whether your hard drive is clicking, or your device is not finding a boot device, you can always call on us for help.
We recover drives from all laptop manufacturers, including Dell, Lenovo, HP, Microsoft, Asus, HP, Acer and others. Our engineers specialize in recovering data from crashed laptop hard drives, particularly those with serious hard drive damage.
HDRA was one of the first data recovery services in Southern California to offer Mac data recovery in the 1990s. Our engineers are deeply familiar with Mac OS systems and can easily recover data from iMacs, MacBooks, and iPhones without voiding your warranty.
Desktop Data Recovery
Our hard drive recovery services begin and end with desktop computers, still our most popular service. We recover files from Windows, Mac, Linux, Unix and all other operating systems, and deliver it to you via your preferred method.
No matter the RAID level, our RAID recovery process is one of the safest in the industry, mainly thanks to our secure imaging process. Plus, our wide range of proprietary RAID tools ensure we can recover and restore your RAID server data often in as little as 48 hours.
RAID Repair
Have a damaged RAID array? Our data recovery engineers repair damaged RAIDs in a Class 10 ISO 4 certified Cleanroom on site to ensure the safest recovery possible. We will offer a comprehensive disaster recovery plan to avoid downtime after a RAID failure.
SAN Data Recovery
We have recovered SAN devices since they were first released. Each year, we invest in training from all Storage Area Networks (SAN) manufacuteres, including HP, NetApp, EMC, Dell and more. No matter the damage, physical or logical, we have your back.
NAS Data Recovery
Failed NAS systems can be a chore to deal with, and require professional data recovery more often than not. Our NAS recovery experience is unparalleled in the industry.
Server Data Recovery
Often, servers can require in depth work in order to properly recover all data. We always work to minimize client downtime with our server repairs. Call us for quick help today!
Tape Data Recovery
Digital data tape is still a prime backup vehicle for many companies, and when the tapes fail, it can be truly brutal. Our engineers can easily restore data from any physically damaged DLTs, LTOs, as well as other kinds of backup tape.
Database Data Recovery
HDRA engineers have experience with all database types including Oracle, SQL, Access, and more. We use the highest security protocols during the recovery process, resulting in a 98% database recovery rate.
Encrypted Recovery
Recovering encrypted data can be tough for some data recovery companies, but not HDRA. We have experience with EFS as well as all other major encryption implementations.
Remote Data Recovery
Complete data recovery from the comfort of your home or office? Yes, yes indeed. Hard Drive Recovery Associates uses the safest, most secure remote recovery tools that ensure the most confidentiality and privacy.

On-Site Data Recovery
When we have to come to you to provide professional data recovery services, we will. Our on-site team is always available for difficult or sensitive data loss scenarios.
SSD Data Recovery
SSDs are incredibly popular drives that are based on flash memory. We have years of experence recovering data from SSD and SSD-HDD hybrids.
USB & SD Card Services
No matter the extent of logical or physical damage, we can easily provide data recovery for USB flash drives, SD cards and other flash memory types.
File & Email Recovery
Whether you need one email or an entire archived email chain recovered, our specialists provide exceptional data recovery to meet your budget and schedule.
Mobile Recovery
For years we have employed certified mobile phone recovery experts to work on both Android and Apple mobile devices. We can access and restore all data on these devices without voiding warranties.
Additional Data Services
Additional services we provide include database conversion, secure media disposal, media conversion, and more.
Service Options
Our data recovery services fit into three different categories: standard services, expedited services, and emergency services. Each offers a different cost and timing choice.
Emergency Data Recovery
If you need access to your critically important data and cannot wait, Hard Drive Recovery Associates emergency service can recover your data within 48 hours or less. By minimizing your downtime, we ensure that you can get up and running as quickly as possible.
How The Data Recovery Process Works
The data recovery process at Hard Drive Recovery Associates begins when you ship your media directly to our lab or drop it off at our location.
Once received, our engineers perform diagnostics on your media in order to determine the price point and estimated turnaround time for your device. Once approved, our engineers perform the data recovery. We charge only the agreed upon price or less, even if the recovery requires more work than initially estimated.
Once completed, you choose how you would prefer your recovered files delivered – whether that is remotely, on a new hard drive or via whatever vehicle you prefer.
Why Choose Hard Drive Recovery Associates?
Each month, at least a handful of customers that have been told their data was "unrecoverable" have their data fully recovered by Hard Drive Recovery Associate. We have provided full data recoveries in even extreme circumstances, such as with fire and water damaged hard drive cases, deeply encrypted drives and other physically damaged media.
We perform all of our work in-house without any third party access, so privacy is always paramount. In our secure environment, we use Class 10 ISO 4 Cleanrooms for recoveries, which ensures effective hard drive recovery services.
If for some reason your drive or media is part of the "unlucky 2%", and we are unable to recover your data, we offer a "no data, no charge" guarantee. We rarely have to use it, but it is there for your peace of mind.
Call us now to get us started on your case!
949-258-9465 or National Toll Free: 1-877-443-2821