Even if you don't live in Canada you've probably heard about the wildfire that almost obliterated the booming oil town of Fort McMurray in Alberta, Canada. While authorities are still looking into the cause of the fire that destroyed 20% of the city it cannot be denied that this fire was a horrific disaster that pushed almost 100,000 people from their homes with little to no notice. Not to mention the amount of business equipment that is burned, as well as computers. Incredibly hot temperatures can of course cause hard drive failure, which is something no one really wants.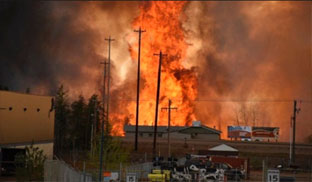 Imagine: you're coming home from work for your lunch break when suddenly you're told to grab anything and everything you can and get the hell out of Dodge. Needless to say computers and hard drives were the last thing on people's minds. It's important to have a recovery plan and while you may not be an organization, these tips are still relevant:
When you developed your data center disaster recovery (DR) plan, you designed it to protect your organization's investment in information technology, communications and its staff. Depending on the nature of the disruption, your data center's overall integrity may be untouched or it could be totally destroyed.

DR plans need to be flexible and scalable to address a broad range of disruption scenarios. In this article, we'll provide data center checklists with recommended actions you can take in the aftermath of disaster. These checklists will make recovering from a disaster easier. Make sure you have the data center checklist—or a modified version using your own requirements—as you review the effects of a disruptive incident to your data center. Once you have completed an initial assessment of the situation and you are satisfied with the location of your staff, begin executing the DR plan.

Data center disaster recovery planning assumptions

A data center disaster recovery plan focuses exclusively on a data center facility and its infrastructure, such as its physical location, construction, security, power sources, environmental systems and its people. Be sure you've factored in the operational aspects of your data center as well as the people supporting it. This means addressing the following as you build your DR plan:

Data center technical and management staff, all shifts
Data center building (e.g., physical infrastructure, construction, location of entrances and exits, raised floor areas)
Building location (e.g., access routes, proximity to highways, rail lines and airports; proximity to fuel storage tanks)
Power generation (e.g., commercial power, backup power systems)
Power protection (grounding and bonding, lightning arrestors, line conditioners, surge suppressors)
Environment (e.g., heating, ventilation and air conditioning)

Via: http://searchdisasterrecovery.techtarget.com/feature/Recovering-from-a-disaster-A-data-center-checklist
Many people lost their homes and everything that was inside. While the hard drives may have survived the fire and rescue efforts, the pictures and documents that are potentially housed on those drives would not have survived in their physical form. Because of its relatively small town size, Fort McMurray undoubtedly does not have professional data recovery services available. Which is very troublesome.
It is always important to back up your data. Back up your digital copies of those irreplaceable memories. Should you ever find yourself in such a terrible situation there can be hope of recovery if you back up your files.
While there were no casualties as a result of the fire, which is amazing, plenty of people have lost things that make up their lives. Those who are affected should check with their insurance companies to see if data recovery is a cost that can be absorbed.
The horrific beauty of nature doesn't discriminate and can come unannounced. Try to be as proactive as you can by having a plan in place and back up that data now, while you can.