External hard drive recovery is becoming more and more popular, as an increasing number of people find extra storage for their business files, music and photos by using an external drive. These devices are truly portable, and enable anyone to move large amounts of data with incredible ease.
But, it is important to remember that external hard drives are extremely susceptible to bumps, bangs and scrapes and consequently tend to have a much shorter lifespan than internal hard drives in desktop and laptop computers. If you've had the unfortunate luck of dropping your external hard drive on a solid floor, you'll know just how important it is to try and recover your precious data.
Contact us here for a free evaluation!
External Hard Drive Recovery Help Is Here
HDRA specializes in external hard drive recovery, and are certified by the following manufacturers:
Western Digital – My Passport, My Book, Elements and Essential lines.
Seagate – FreeAgent GoFlex, GoFlex Desk, GoFlex Satellite, Slim, and Expansion and Expansion 2.0 series.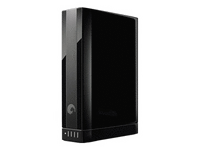 Samsung – S2, G3, G2 and older models.
IOSafe – SoloPRO 3, Solo 1, 2, 3, and Rugged Portable drives.
LaCie – 2Big Quadra, Rugged Mobile And XL, Minimus, Bridge And Classic
Toshiba – Canvio Basics, Canvio 3.0.
Verbatim – Quad-Interface, Store
Wiebetech – RRTX400 QR, Toughtech Mini.
And many, many others. Basically, if you have an external hard drive, no matter the age or manufacturer, we can recover all of the data on it for you. When we recover your external hard drive, remember also that we will provide you with a new, similar model as part of the cost of recovery. And remember: if we don't recover your data, there is never a charge.
External Hard Drive Failure Warning Signs
With external drives the warning signs of an impending crash or failure are obvious – typically you'll hear a loud clicking sound, or light buzzing sounds coming from the drive as it is struggling to read data.
Important Tip: As soon as you hear this clicking noise you should safely power down the drive and take it to a data recovery expert who can help you. The longer you use the drive in its faulty state, the more likely it is that the drive will be completely unresponsive when a professional technician takes a look at it.
How Much Does External Hard Drive Recovery Cost?
There's no blanket price that will apply to all external drives. Different drives can have different physical faults, and the process of retrieving data from some drives may be more labor intensive than others. If you've dropped your drive or soaked it in water you should expect to pay more for the data recovery process than someone whose drive has started to become faulty due to long term usage.
Some drives can be recovered using simple software, while others require the drive to be disassembled by an engineer in specialized clean room conditions. Clean room service does typically run higher in cost.
Backup Your Backup!
As an external hard drive is likely to be the key device that you backup all of your files to, it can be very worrying when it starts to display a fault, or fails altogether. In order to avoid the anxiety associated with a failed external hard drive, you may want to look into the possibility of using a cloud storage service. This storage can be accessed from any computer as long as it has internet connectivity, and it saves you from having to lug a large external drive around to meetings with you.
External hard drive recovery is possible. If your drive is badly damaged less data will be retrieved and the cost of doing so will be high. If your drive has given up the ghost due to being quite old, external hard drive recovery is cheaper.
Get in touch with a professional now.
Here is an example of some of the sounds you may be hearing. This is a good signal that it may be time to turn off your drive!