Nobody likes to be taken by surprise. The feeling of helplessness and not knowing what to do brings out the worst in people. But if there is a certain preparedness we should all be taking seriously, that involves knowing what to do in case of a natural disaster.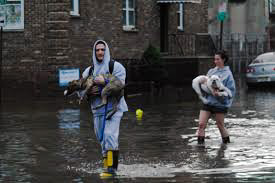 Mother Nature is a force to reckon with. Natural calamities – big or small – are not a joke, so it is a must to learn what to do before, during, and after disaster strikes. All over the globe, we are at risk of climate change and global warming that makes common calamities like floods, drought, bushfire, storms, hurricanes, tornadoes, etc. experienced by different regions worse and even deadlier than before.
When speaking about communities affected by natural disasters like the 2013 Alberta floods or last year's Fort McMurray wildfires, people often throw around words like "recovery" and "resilience." These words seem singularly appropriate, but they also suggest these events are almost momentary issues — unpleasant blips that a community will spring back from, like a squeezed foam ball.
(Via: https://www.ucalgary.ca/utoday/issue/2017-03-15/international-disaster-readiness-workshop-planned-calgary)
We should all be prepared at all times since nobody is safe and we never know when and where natural calamities will strike next or risk losing hundreds to thousands of lives because we did not have the foresight to prepare beforehand.
Sixty-seven people have been killed and thousands more forced to evacuate by intense rains which damaged 115,000 homes and destroyed more than 100 bridges in Peru's worst floods in recent memory.

"We are confronting a serious climatic problem," said Peru's president, Pedro Pablo Kuczynski, in a broadcast to the nation on Friday afternoon. "There hasn't been an incident of this strength along the coast of Peru since 1998."

The disaster – which came after a period of severe drought – has been blamed on abnormally high temperatures in the Pacific Ocean, and fuelled criticism that the country is ill-prepared for the growing challenges of climate change.
(Via: https://www.theguardian.com/world/2017/mar/17/peru-floods-ocean-climate-change)
Even the experts do not just anticipate calamities brought about by Mother Nature but a global disaster of cataclysmic proportions that may end the world that we now know of.
In recent years, warnings by top scientists and industrialists have energized research into the sort of civilization-threatening calamities that are typically the stuff of sci-fi and thriller novels: asteroid impacts, supervolcanoes, nuclear war, pandemics, bioterrorism, even the rise of a super-smart, but malevolent artificial intelligence.

But what comes afterward? What happens to the survivors? In particular, what will they eat? How will they stay warm and find electricity? How will they rebuild and recover?

These "aftermath" issues comprise some of largest points of uncertainty regarding humanity's gravest threats. And as such they constitute some of the principal research focuses of the Global Catastrophic Risk Institute (GCRI), a nonprofit think tank that Seth Baum and Tony Barrett founded in late 2011. Baum, a New York City-based engineer, and geographer is GCRI's executive director. Barrett, who serves as its director of research, is a senior risk analyst at ABS Consulting in Washington, DC, which performs probabilistic risk assessment and other services.
(Via: https://futurism.com/how-could-we-survive-after-a-global-catastrophic-event/)
There is something we can all do to raise awareness on disaster preparedness and equip everyone with the knowledge and skills to help them survive whatever disaster they face.
In the face of this reality, one would assume that investments in disaster preparedness and climate action were on the rise. If you lived in the United States, however, you'd be grossly mistaken. In fact instead of being serious about protecting the health, safety, and general welfare of its citizens, the Trump administration has decided to gut all programmes related to climate and many related to disaster-preparedness.

If you still doubt the need for action to adapt to the consequences of climate change, don't just listen to me – listen to the US military, world business leaders, or the majority of Americans. Given that climate leadership is unlikely to come from the US federal government under Trump, many are asking, what can I do to prepare for climate change? Here are eight initial actions that individuals, as well as governments, could take immediately to prepare.
So, here are what you can do to raise disaster preparedness:
Make a plan; build a kit.

Get to know your neighbours.

Reduce your carbon footprint.

Call your legislators today, and every day.

Integrate climate change into all policies, programmes, and decision-making processes.

Invest in climate science.

Embrace green infrastructure.

Embrace climate action as a means of advancing economic development and social justice.
(Via: https://www.theguardian.com/commentisfree/2017/mar/21/eight-things-adapt-climate-change-donald-trump)
The threat is real as every year no matter where you are in the world, disaster kills thousands of people and destroys millions of properties and infrastructures. Your efforts – big or small – matter. Whatever you can contribute on your own or as a part of the community can make a difference to help everyone be prepared in case of a disaster. You may even help or save someone's life.